Are you frustrated because diet and exercise are not producing your desired results? Are stubborn areas of disproportionate fat persisting despite your best efforts? The ability to selectively remove excess fat and produce new body contours makes liposuction the first choice for addressing problem areas. Joseph A. Mele, MD, FACS—our experienced plastic surgeon—has helped many individuals shape their bodies through cosmetic plastic surgery. At his practice, many liposuction patients have benefited from advanced body sculpting treatment plans that are custom-designed for their unique needs.
What Is Liposuction?
Liposuction, also known as lipoplasty, is a cosmetic plastic surgery procedure designed to remove bulges caused by a collection of excess fat in specific body areas. "Lipo" is not an effective means of weight loss, but it can spot-remove stubborn areas that do not respond to exercise. This ability to reshape the body is why liposuction is often called "Liposculpture."
Introduction to Liposuction Video Presentation
Dr. Mele can help you slim specific areas of your body, providing a better-sculpted and toned physique. The areas of the body that most people complain about are the abdomen, back, buttocks, hips, thighs, and chin. Liposuction can reduce pockets of excess fat that have accumulated in a range of body areas to create an improved contour. This treatment can ultimately give both men and women a means to achieve their goals and feel better about their appearance.
Liposuction Before and After Photos – Liposculpture and Suction Assisted Lipectomy (SAL)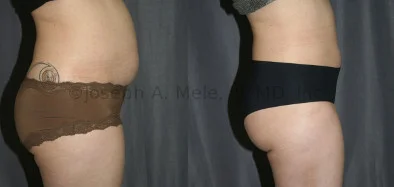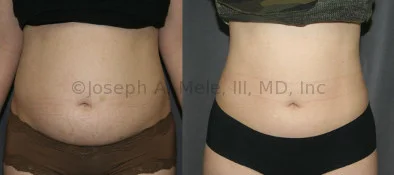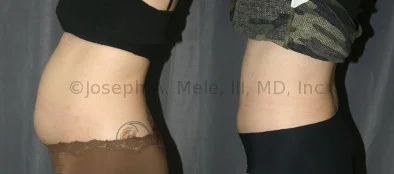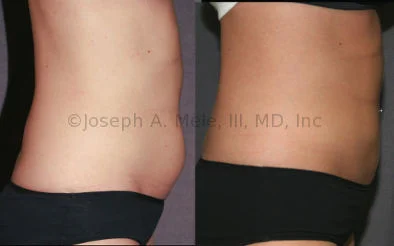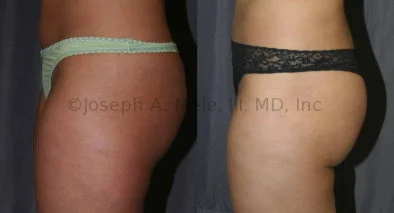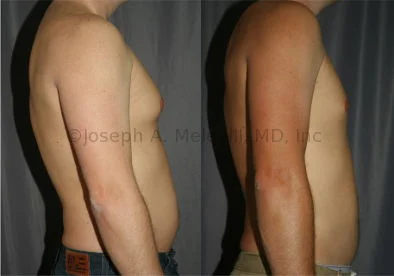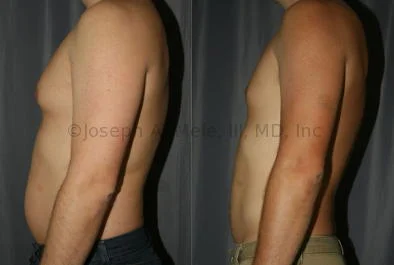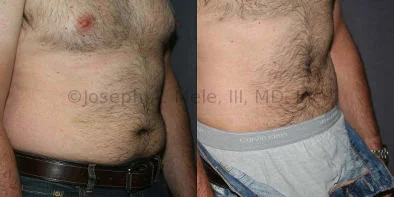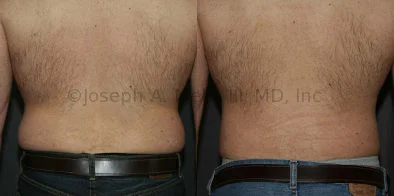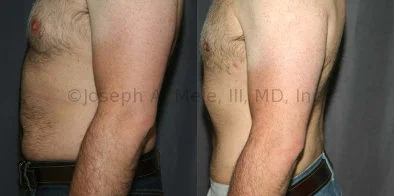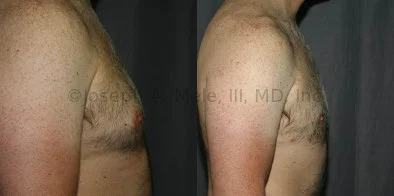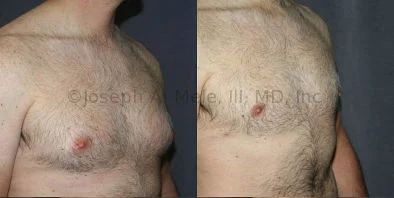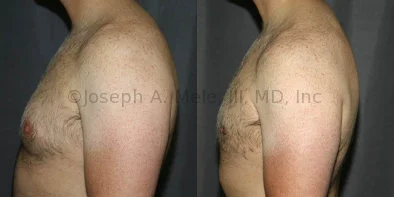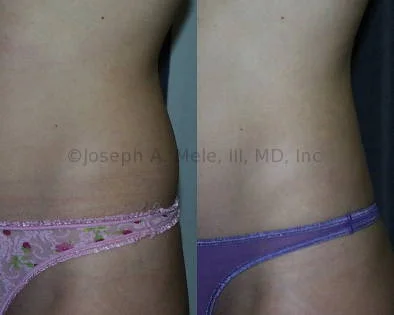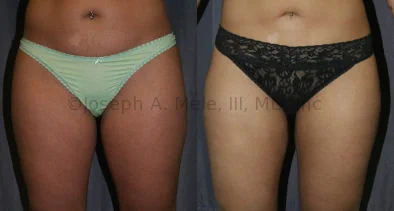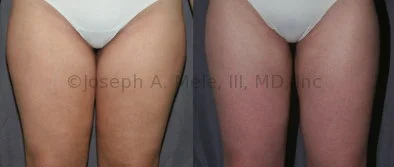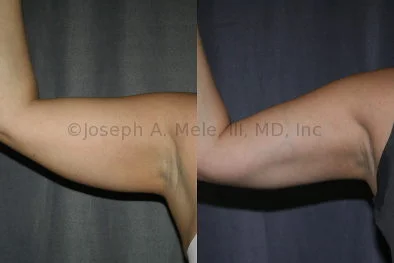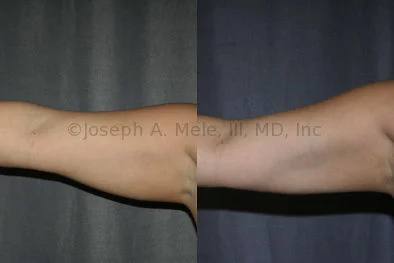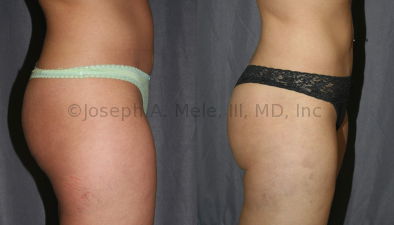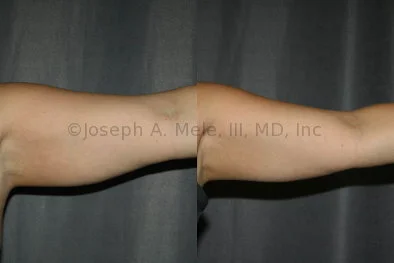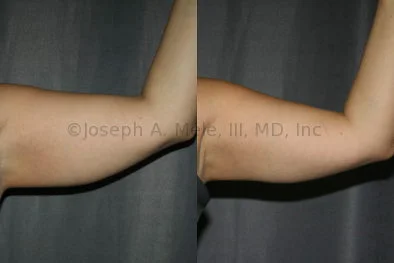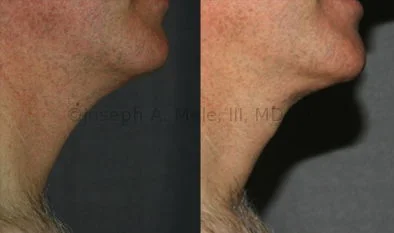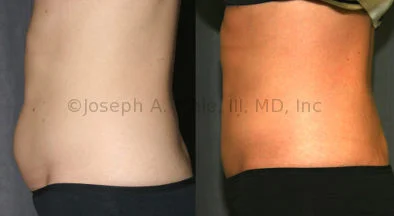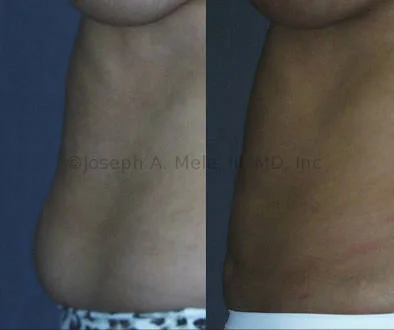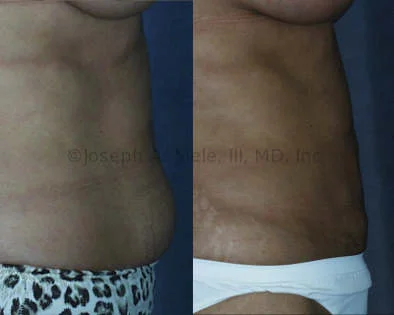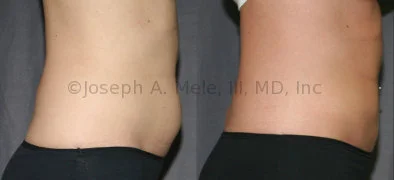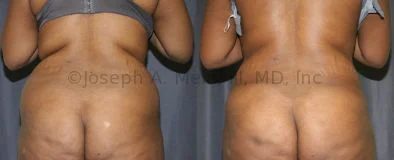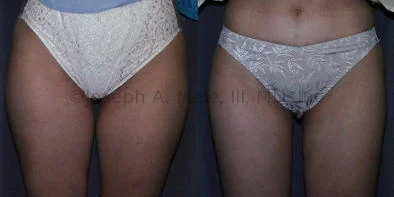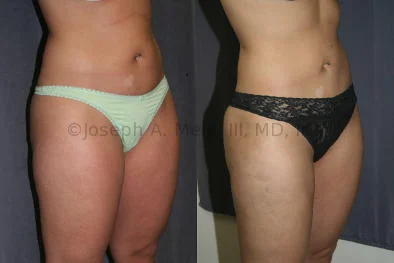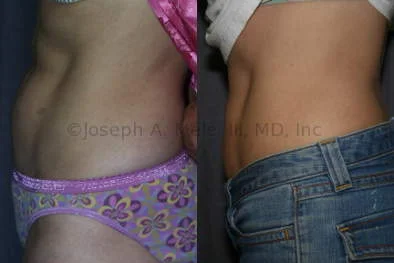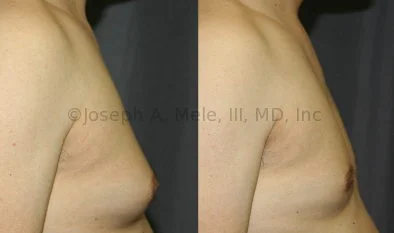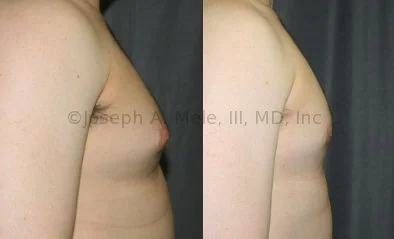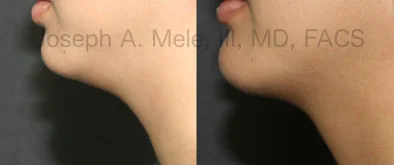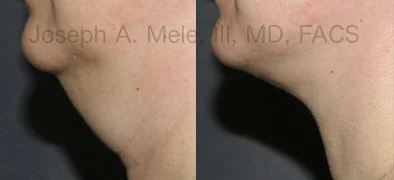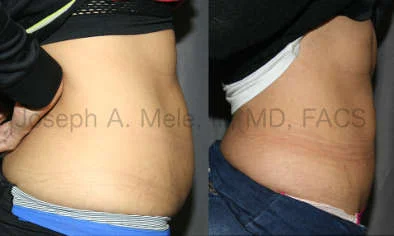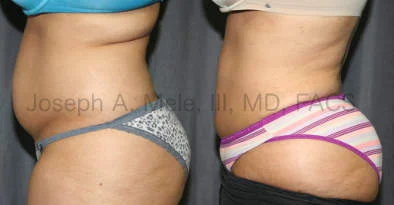 Am I a Good Candidate for Liposuction?
Liposuction removes disproportionate collections of fat and the fullness associated with excess fat. Most patients seeking liposuction complain that even when they were younger or thinner, disproportionate fat was always present and a source of frustration. Therefore, if you are healthy and close to your goal weight, but have stubborn areas of fat that refuse to cooperate with your current diet and exercise plan, you are likely a good candidate for liposuction.
Patients who are happy after liposuction are those who were unable to lose weight in specific areas despite lifestyle modifications including weight loss and exercise. Some patients will use liposuction to jumpstart their weight loss, but it is not a substitute for a healthy diet and weight control. Just like with a crash diet, if you use liposuction to remove excess fat without a change in your exercise and dietary habits, the fat will come back. It may not come back in the same place, but it will come back.
Despite what you may hear or read on less scrutinized websites, no matter the technique used, liposuction does not provide significant treatment for loose skin. When you visit our office for a consultation, Dr. Mele will determine if you are a good candidate for liposuction or perhaps another more effective body sculpting procedure.
What Are Some of the Major Liposuction Techniques?
Since the introduction of liposuction to the United States in the early eighties, many new techniques have emerged. The most effective and versatile technique remains tumescent liposuction. Lasers ("Smartlipo™"), ultrasound ("VASER® Lipo") and freezing may provide some enhancement in carefully selected cases, but the majority of patients will notice no difference in results, and there can be an increased cost and risk associated with using these high-energy, cellular stressors. Even more important for great results than the technique used is the person performing your procedure. For the best results, choose a board-certified plastic surgeon with years of experience treating a diverse range of liposuction patients.
Tumescent Liposuction
The tumescent technique for liposuction provides the most effective fat removal, which is both safer and more predictable than its predecessors. Tumescent liposuction is associated with less postoperative discomfort and a shorter downtime. All new treatment modalities require tumescent liposuction to work.
What Does the Liposuction Procedure Involve?
Tumescent liposuction—the most commonly used type of liposuction—works by removing disproportionate fat, which is located between the skin and muscle layer. Dr. Mele performs this outpatient procedure in a fully accredited surgery center. After the skin is prepped and draped sterilely, small incisions are made just large enough to allow a three- to four-millimeter diameter cannula to pass beneath the skin. The tumescent fluid is instilled, and small ports are inserted to protect the skin from the liposuction cannula. The cannula inserted through the port and the disproportionate fat is vacuumed out.
Liposuction begins with getting the information you need to make an informed decision. While the Internet is great for getting a general idea of what is involved and what is possible, the process really starts with a private consultation at our conveniently located office in Walnut Creek, California. Dr. Mele will discuss your options during an initial visit and will evaluate your health and goals to determine if liposuction is right for you. A medical history and physical examination are often all that are needed for proper patient selection. Once the areas to be addressed are selected, a focused evaluation determines if any additional preparation is necessary. The method, cost and recovery for your specific procedure are reviewed. When you are ready to proceed, the dates for your pre-operative visit, liposuction surgery, and follow-up are scheduled. At your pre-operative visit, detailed pre-op instructions are discussed, such as which medications to take and which to avoid around the time of surgery.
Liposuction Video Presentations From Body Beautiful
During liposuction, every effort is made to provide you with the utmost results using the safest and most predictable liposuction techniques. Dr. Mele will first make a small incision adjacent to the targeted area. Often, a small port is first inserted into the skin opening to protect the skin edges and provide accelerated healing. Using a narrow tube (cannula) in the targeted area, Dr. Mele can effectively remove excess fat. The abdomen, hips, back, buttocks, thighs, chin, and the male chest are common regions where liposuction is performed. A specific technique will be used for each patient, such as tumescent liposuction or ultrasound-assisted liposuction. Once the fat has been sculpted, a stitch is placed to close the small openings, and a light compression garment is provided to keep the contours smooth, reduce swelling, and provide postoperative comfort and support.
What Is Recovery from Liposuction Like?
Follow-up after your liposuction procedure is designed to speed healing and smooth the skin. You are allowed to shower the day after surgery, and Dr. Mele will see you back in the office a few days after your procedure to check your progress. Sutures are removed at the first postoperative visit, scar massage is instituted, and compression garments are continued. The garments are used continuously for two weeks after liposuction, and then "halftime" for four more weeks. While most patients see results right away, it takes several weeks for the majority of the swelling to resolve, and a few months to see the "final" results. Improvement in your contour can be expected to continue for six to twelve months. It is important to remember that liposuction is not a form of weight loss, and excellent results can be undone if one's weight is not maintained.
Are There Any Liposuction Side Effects?
The side effects of liposuction are mainly short-term. Surgery is a form of injury, and with any injury there is bruising, swelling, and changes in sensation. Bruising can last from a few days to a few weeks, and tends to resolve on its own. Avoiding blood thinners before surgery is the best way to avoid prolonged bruising.
Swelling can take months to resolve and interfere with seeing your final results. Most patients can see their progress right away and in a few weeks they are feeling good about their new shape. It takes about three months for the majority of the swelling to resolve, and improvement is often seen out to a year. The use of compression garments can help speed your results.
Changes in sensation are normal in the skin overlying the area of fat removal. These changes tend to resolve gradually over the months after surgery. In some cases, patches of skin can remain numb or hypersensitive, but this is uncommon.
The most common long-term side effect of liposuction is an improvement in body contour and proportions. The most common undesired effect is the formation of irregularities in contour. These can be caused by poor patient selection, existing loose skin before liposuction, imprecise surgery, leaving pockets of fat, removing too much fat, and improper use of compression after surgery (poorly-fitting garments that do not compress or roll, causing bands that can leave dents).
How Noticeable Are Liposuction Scars?
Liposuction scars are short. This is one of the greatest advantages of liposuction. Every attempt is made to place incisions in normal body folds and in areas covered by clothing, making them even less noticeable.
Care of the operative sites is also key to less noticeable scars. During surgery, ports are used to prevent the cannulas from irritating the wound edges. After surgery the scars should be kept moistened to promote healing. Dr. Mele will review how to take care of your liposuction scars after surgery to optimize your results.
How Long Do Liposuction Results Last?
Liposuction results last for years and years. Liposuction is often referred to as "Liposculpture" because the plastic surgeon's goal is not just to remove fat, but also to sculpt the body, guided by ideal proportions. If you start near your goal weight and then maintain your weight with a healthy diet and regular exercise after liposuction, these carefully sculpted curves are much more likely to remain intact. Garments can also be helpful in creating a shape that will last. Be certain to ask your surgeon for the type of garment that works best with their work. Most surgeons provide appropriate garments. Always check with your surgeon before changing garments. Great liposuction results are the result of teamwork between you and your surgeon.
Large fluctuations in weight can ruin even the best results. With weight gain, the body will create more fat and this will cause changes in body proportions. Weight loss can also change body proportions with loss of volume where it may be desirable, and the loss of volume can manifest as a loss in support and sagging skin.
What Are Some Alternatives to Liposuction?
Alternatives to liposuction are needed when skin is loose. For example, the belly is a common area for liposuction. When the skin is tight, the abdomen responds well to liposuction, with drastic improvement in profile. However, the abdomen is also an area that may develop loose skin. Liposuction may not be recommended as the primary treatment after massive weight loss or pregnancy. The amount of skin laxity is important to determine prior to liposuction because loose skin can fold irregularly or droop without the support of the underlying fat. Performing liposuction beneath loose skin may result in an uneven post-operative contour rather than the smooth result desired. If the abdominal skin is too loose, a tummy tuck or mini abdominoplasty may be recommended. Click the following link for more information: Choosing Between Liposuction, Tummy Tuck, or Mini Tummy Tuck.
How Much Does Liposuction Cost?
The cost of liposuction varies greatly depending on the number of areas treated and the technology utilized. Cost is proportional to the time required for the procedures, so the more areas requested (arms, body, thighs, back, etc.), the greater the cost. Revision lipoplasty also takes longer as it is more technical than primary liposuction. Treating additional areas often requires more postoperative garments, as each area treated needs appropriate compression gear.
You are welcome to call the office at (925) 943-6353 with your liposuction questions. Price ranges can also be provided.
After your consultation appointment an estimate will be presented, which includes the garments, postoperative scar treatments, and professional, operating room, and anesthesia fees. Dr. Mele's San Francisco Bay Area plastic surgery office will provide you with a single price, so there are no hidden charges. If needed, financing information is also available.
Complementary Treatments
While liposuction can be an effective treatment on its own, it is also commonly performed in combination with other procedures, such as:
"Mommy Makeover" is the term commonly used when a combination of breast and belly rejuvenation is performed. It is the combination most requested by moms wishing to restore their pre-baby physique. Dr. Mele will be happy to talk with you about your concerns and the options available to you to help you achieve your goals with the best possible results.
Schedule a Liposuction Consultation
Board certified by the American Board of Plastic Surgery (ABPS) and the American Board of Surgery (ABS), Dr. Mele has the qualifications and experience to perform liposuction for our San Francisco Bay Area patients. He is also a member of the American Society of Plastic Surgeons (ASPS) and The Aesthetic Society (formerly the American Society for Aesthetic Plastic Surgery, or ASAPS). Additionally, Dr. Mele has published articles regarding cosmetic and reconstructive plastic surgery, and lectures locally and nationally at plastic surgery conferences.
To schedule a consultation with Dr. Mele, call (925) 943-6353. You may also reach us via our contact form.