Nipple Reduction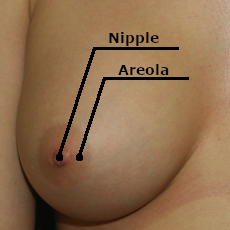 Nipple Reduction surgery reduces the size of the nipple. It is performed for both men and women, sometimes during Breast Reduction, Breast Lift, Gynecomastia Reduction, Areola Reduction or rarely after Inverted Nipple Correction. Like the areola, the nipple naturally enlarges, and may darken, in response to the hormones released during puberty and pregnancy. Often, the nipple growth seen during pregnancy, increases with breast feeding, and will remain after lactation ceases. For men, a large nipple may be associated with male breast enlargement (gynecomastia), and has a feminizing effect on the appearance of the breasts. Nipple reduction can often be performed in the office, under local anesthesia, and has a recovery period of a few days.
Nipple Reduction Before and After Photos (Men & Women)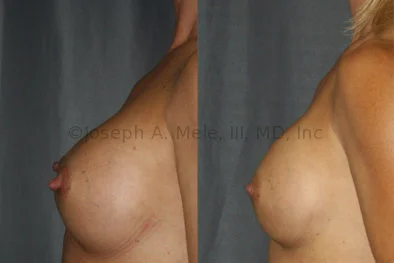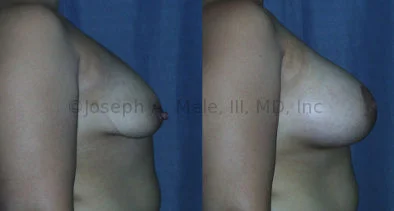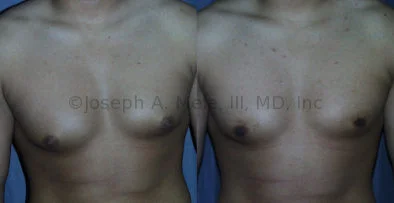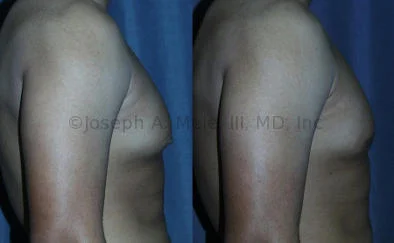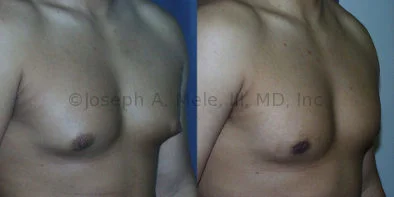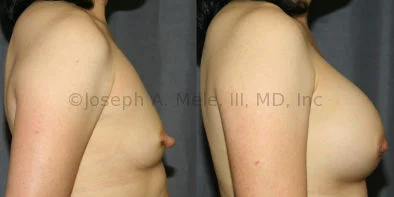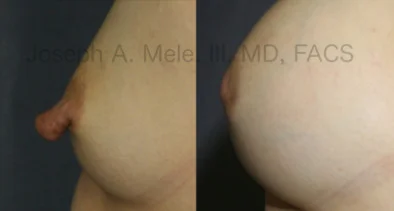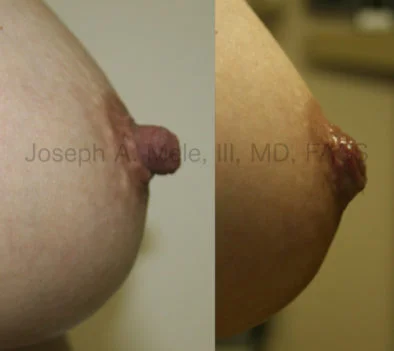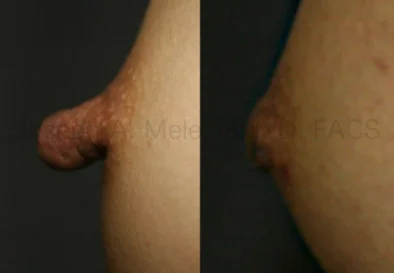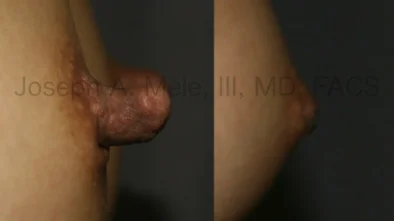 Female Nipple Reduction
Disproportionately large nipples can be a source of embarrassment for women, and precludes the some clothing options. Whether the enlargement of the nipple is solitary or found in conjunction with large breast, sagging breasts or tubular breasts, Nipple Reduction can be an important part of breast enhancement surgery. Like the icing on the cake, reducing the size of the nipples can be the final detail needed for optimal breast aesthetics.
Nipple Reduction as an Isolated Procedure
When performed by itself, Nipple Reduction is a minor surgical procedure. It is usually performed under local anesthesia; however, conscious sedation or general anesthesia can also be used. The nipple remains attached to the breast, and only the excess is removed. Since nipples come in all shapes and sizes, nipple reduction techniques vary depending on whether the nipple is too long, too wide or both. Some techniques telescope the nipple back into the breast — the opposite of Inverted Nipple Correction. Other techniques reduce the diameter of the nipple.
Since reducing the length and diameter of the nipple are complementary techniques, they can be performed independently when the enlargement is primarily confined to the projection or width of the nipple. When the length and width of the nipple are an issue the techniques are combined. The incisions are small and are located on or at the base of the nipple where they are difficult to see. Fine sutures are utilized to form the smaller nipple. For patients wishing to combine nipple reduction and Breast Augmentation with Saline Breast Implants, it is often possible to place the breast implants through the nipple incision.
Nipple Reduction with Breast Reduction
When large nipples are associated with large, heavy breasts requiring Breast Reduction surgery (Reduction Mammoplasty), nipple reduction make be incorporated as a satisfying, fine detail for the new, smaller and perkier breasts.
Nipple Reduction with Breast Augmentation
If you are contemplating Breast Augmentation, and are concerned with the size of your nipples, consider having Nipple Reduction at the same time. Nipple Reduction can be often combined with Breast Augmentation with no increase in the recovery period when compared to Breast Augmentation alone. A Board Certified Plastic Surgeon can help you with all your aesthetic breast needs.
Nipple Reduction with Breast Lift
For patients scheduled for a Breast Lift, enlarged nipples can be corrected at the same time. Correction of both areas of concern can be completed usually with no increase in recovery compared to breast lift alone. If you are considering breast lift surgery and are concerned with the size of your nipples, be certain to let your Board Certified Plastic Surgeon know.
If you are interested in learning more about Nipple Reduction in the San Francisco Bay Area, call our Walnut Creek Plastic Surgery office today at (925) 943-6353 to schedule a consultation.
Male Nipple Reduction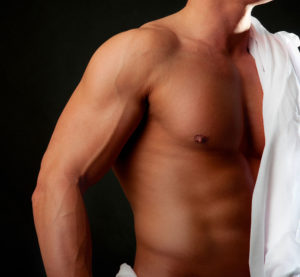 The male nipple is meant to be smaller than the female nipple. When the male nipple is large, it can be a source of concern and insecurity. Fortunately, Male Nipple Reduction is simpler than female nipple reduction, because the male nipple is purely cosmetic, and there is no physiological function to preserve.
Nipple Reduction as an Isolated Procedure
As with female Nipple Reduction, male nipple reduction is a minor surgical procedure. It can be performed easily under local anesthesia; however, conscious sedation or general anesthesia can also be utilized when desired. For men, often the smaller the nipple the better. Specific techniques allow for large reductions in nipple size, with minimal evidence of surgery. Fine sutures are placed to support the newly formed smaller nipple, and these dissolve, or are removed, about a week after surgery.
When the areola is enlarged or projecting, Areola Reduction or Gynecomastia Reduction surgery may be indicated. Nipple Reduction, Areola Reduction and Gynecomastia Reduction are often performed at the same time.
Nipple Reduction with Gynecomastia Reduction
Nipple Reduction can be a component of gynecomastia reduction surgery. In cases where the nipple is enlarged, nipple reduction can provide a more masculine appearance. The male nipples are much smaller than the female nipples. Careful attention to detail is required for optimal results. By removing the excess tissue, the nipple can be reduced in both diameter and projection (length).
Schedule a Nipple Reduction Consultation
If you are interested in learning more about Nipple Reduction Surgery, please contact our cosmetic surgery office today.