Breast Reduction Mammoplasty
Breast Reduction surgery is performed for both men and women. The terms Breast Reduction, Reduction Mammoplasty and Reduction Mammaplasty are most often used when discussing female breast reduction, while male breast reduction is called Gynecomastia Reduction.
Breast Reduction Before and After Photos (Reduction Mammoplasty)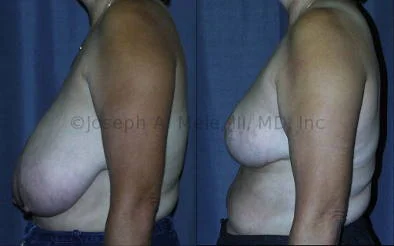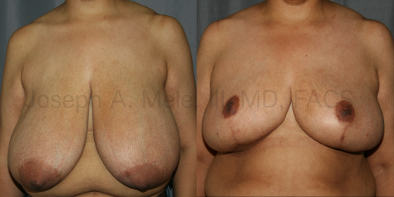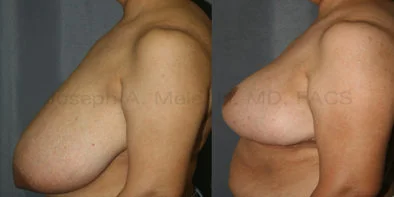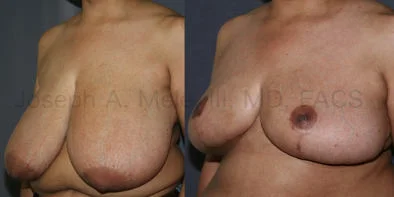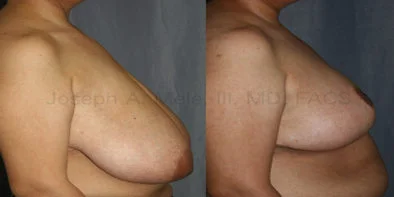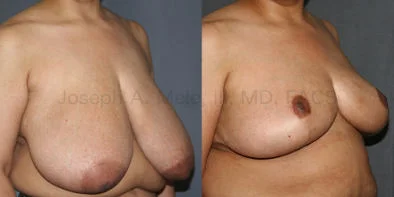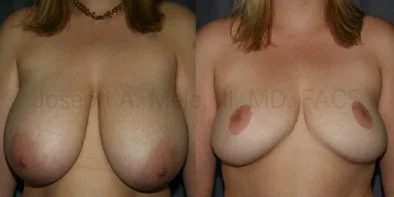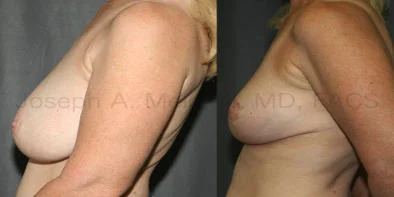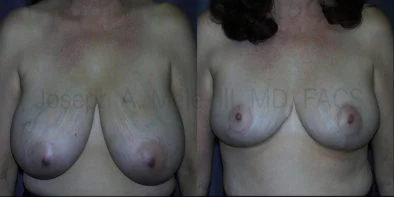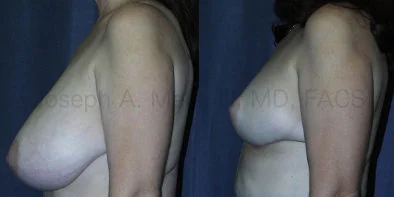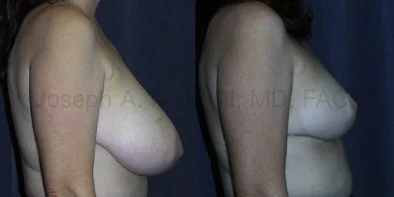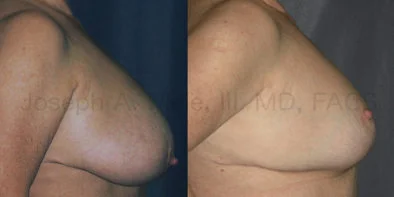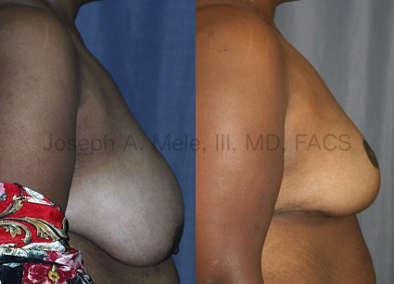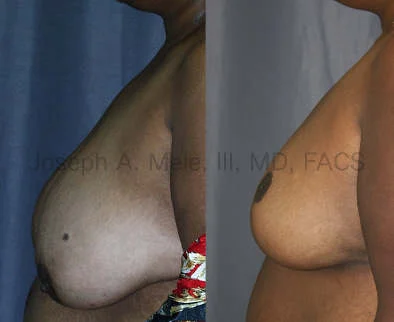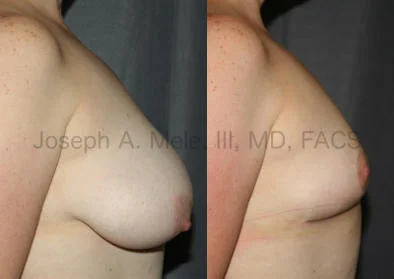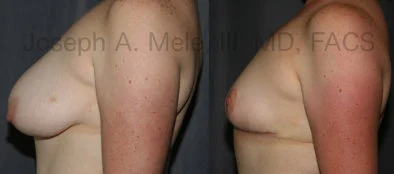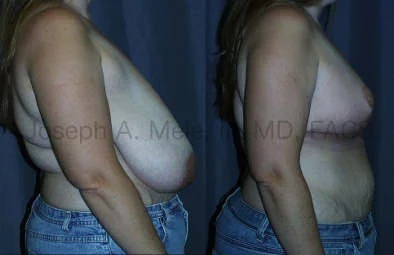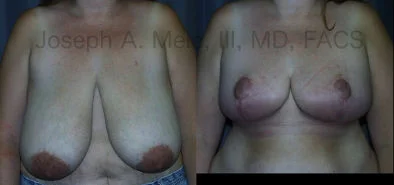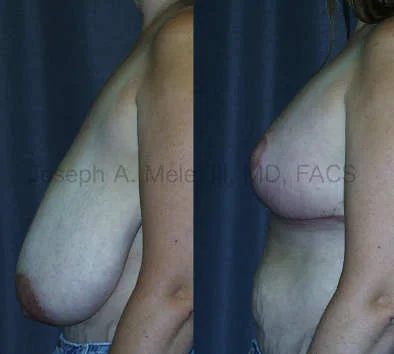 Female Breast Reduction
Overly large breasts are often a source of discomfort for women. Heavy breasts cause neck and back pain, and can limit physical activity. Large breasts can cause shoulder rutting, as the weight of the breasts pull down on the bra straps. Large breasts can be difficult to fit into clothing, limiting style choices and leaving a woman feeling self-conscious about the size of her breasts.
Breast Reduction is a cosmetic procedure designed to reduce the volume and appearance of breasts, leaving you with a more proportionate and flattering bust line.
Performed by Joseph Mele, MD, the Breast Reduction procedure uses an anchor-shaped incision beneath the breast, like with a breast lift. In selected cases, fewer and shorter scars can be used. Dr. Mele tightens the remaining skin around the smaller, newly shaped breasts. As with other breast contouring procedures, Breast Reduction is performed under general anesthesia.
Breast Reduction Preparation
Preparation for a Reduction Mammoplasty is similar to the preparation for other elective procedures. You should consult with an experienced, Board Certified Plastic Surgeon who will perform a focused medical history and physical examination to be certain you meet the criteria for Breast Reduction. This also helps assure that the procedure can be performed safely and predictably. Some medications should be continued, while others need to be stopped. Your Plastic Surgeon will go over these with you.
Follow-up After Breast Reduction
After surgery, it is important to follow-up with your Plastic Surgeon. They will provide you with additional information and instructions, which will further enhance your experience and results. Vigorous physical activity may be limited for several weeks after your Breast Reduction, so be certain to review which activities need to be avoided and for how long. Pain medications are usually only needed for a few days after surgery, and many patients suffering from chronic neck and back pain prior to Reduction Mammoplasty feel better as soon as they wake-up.
If you are interested in learning more about Breast Reduction in the San Francisco Bay Area, call our Walnut Creek Plastic Surgery office today at (925) 943-6353 to schedule a consultation.
Reduction Mammoplasty (Breast Reduction) Videos
Breast Reduction Insurance Coverage
If you are having physical symptoms from large breasts, like breast pain, neck pain, back pain, shoulder rutting, a chronic rash, or recurrent infections beneath your breasts, your health insurance may cover breast reduction surgery. Check your policy or contact your health plan to see if you qualify and what restrictions may apply. Some health plans have begun to exclude breast reduction as a covered procedure, and HMO plans will require you to see one of their doctors to qualify. Documentation of your symptoms and all attempts to relieve them is important. A letter from your primary care doctor or other doctors who have treated the problem, records of physical therapy, chiropractic care and medications taken can help with the approval process.
Reduction Mammoplasty (Breast Reduction) Video Presentation
Schedule a Breast Reduction Consultation
If you are interested in learning more about our San Francisco Bay Area Plastic Surgery office and Breast Reduction Surgery, please contact our office today.