The Mini Facelift has been gaining in popularity, partly due to it's unique advantages discussed below, and partly due to the mass marketing of Facelift Alternatives like the Lifestyle Lift and Quicklift.
Every Board Certified Cosmetic Plastic Surgeon should be well versed in both Mini and Full Facelifts, and can explain both options during your consultation appointment. Not everyone is a good candidate for a Mini Facelift, but it does not hurt to ask if the smaller Mini Rhytidectomy is a good option. Since Board Certified Plastic Surgeons offer the full range of Cosmetic Plastic Surgery Procedures, they can review all your options, so that you can make the best and most informed decision.
Mini-Facelift (Mini-Rhytidectomy) Before and After Pictures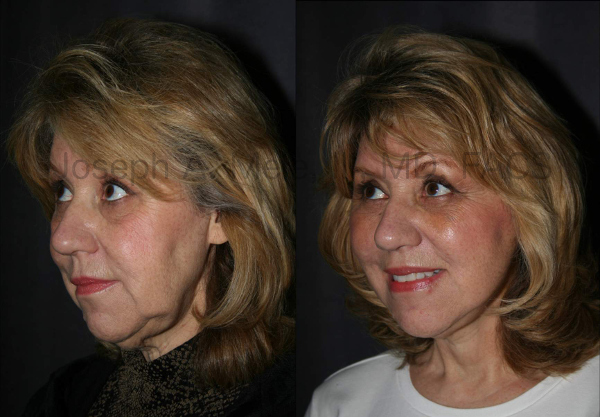 The Advantages of a Mini Facelift
The Mini Facelift offers many advantages over its big sisters, the Facelift, the Deep Plane Facelift, the Dual Plane Facelift and the SMAS Lift, to name a few. A Mini Facelift is a smaller procedure, so the incision, surgery time, recovery and cost are smaller too. A Mini Facelift can often be performed under local anesthesia, without the need for general anesthesia.
The advantages of the Mini Facelift are real, but a Mini Face is not just a Facelift that costs less and provides a faster recovery. It is a specific operation with specific indications, as well as limitations. You may be a good candidate for a Mini Facelift if you:
Are in good health
Have mild to moderately loose skin along the jawline (jowls)
Have mild to moderately loose skin of the neck (turkey neck)
Have excellent skin elasticity
Facelift vs. Mini Facelift
The Mini Facelift is a great procedure, but it cannot do everything a Facelift can. You may be better off with a Full Facelift or Neck Lift if you:
Are in good health
Have moderate to severely loose skin along the jawline (jowls)
Have moderate to severely loose skin of the neck (turkey neck)
Have separation of the platysma muscle forming a pair of cords extending from the chin down the neck (platysmal banding)
Have good skin elasticity
Desire a longer lasting result
Factors such as the amount of wrinkling, laxity and the quality of skin elasticity, help determine the best candidates for the Mini Facelifts. In general, Mini Facelift candidates are younger, with a focus on maintaining appearance, who require less dramatic correction. It's a "smaller hammer" designed to provide significant correction when you do not have all the indications for a Facelift. The Mini Facelift tightens your lower face, while maintaining your features. It's a great way to maintain a youthful jawline, with a quick recovery, and markedly reduced downtime.
Facelift Videos
The Mini-Facelift (Mini-Rhytidectomy)
A Mini Rhytidectomy, literally a mini wrinkle removal, is a quick facelift procedure. While it cannot do everything a Facelift can do, it can do a lot. Like any cosmetic plastic surgery procedure, a Mini Facelift has specific indications and contraindications that should be discussed with Dr. Mele before you decide to proceed.
Mini Facelift vs. Full Facelift
The advantages of a smaller operation are numerous. The procedure entails a smaller incision, a quicker operation, a faster recovery and a lower cost. It can be performed under local anesthesia, local anesthesia with sedation or under general anesthesia. Due to its shorter duration and less invasive technique, most patients tolerate the Mini Rhytidectomy with just local anesthesia. The Mini Facelift method also minimizes post-operative swelling bruising, and discomfort, so you can return to your normal activities quickly. A Mini Facelift can also be performed to rejuvenate a previous full Facelift, with good results.
The disadvantages of a Mini Rhytidectomy also related to it being a smaller procedure. Limitations include the inability to correct larger amounts of laxity, especially at the neck and the results of a Mini Facelift are not as long lasting as a full Facelift. In these cases a Facelift is a better choice.
A short article comparing mini-rhytidectomy and rhytidectomy is available in my San Francisco Plastic Surgery Blog here: Facelift (Rhytidectomy) v. Mini Facelift (Mini Rhytidectomy). Video from a half-hour special on San Francisco's television station KRON4's medical show, Body Beautiful, features Dr. Mele discussing facelifts. The video is available online on Dr. Mele's YouTube Channel and on the San Francisco Plastic Surgery Blog. Part one is here: Rhytidectomy (Facelift) San Francisco Bay Area Video
While a face lift can significantly improve the appearance, the procedure does not prevent or stop the aging process. Many patients choose to combine their face lift procedure with a Brow Lift and Blepharoplasty (Eyelid Surgery) to take full advantage of their surgical time and recovery period, and to further enhance results. Combining facial plastic surgery procedures, leads more balanced facial aesthetics, and the appearance of an evenly youthful face. To see examples of Dr. Mele's excellent patient results, you may view before and after plastic surgery photos.
The Face Lift (Rhytidectomy) Procedure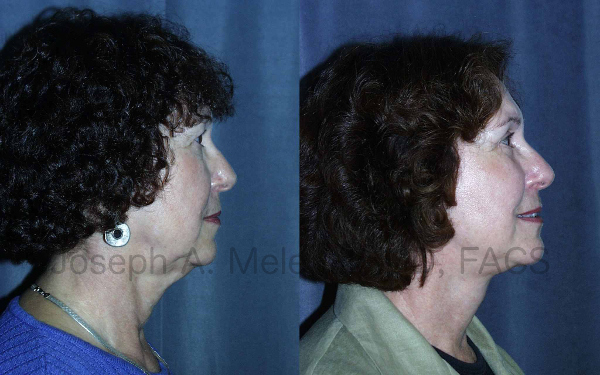 The Facelift has evolved through the years. What we term a Mini Facelift today, as once a Facelift. With the development of Deep Plane Facelifts (SMAS, deep plane, dual plane and subperiosteal) and Extended Supraplatymal Facelifts (ESP Facelift), more challenging corrections are possible, and longer lasting results have been obtained.
Brand-Name Facelifts
While many "brand name" procedures are out there, operative techniques cannot be patented, so there is nothing special about them. Good judgement and skill trumps even great techniques, so it is most important for you to find the best doctor, rather than the best technique. The best Plastic Surgeons know what procedure will work best for you in their hands. This is one of the main reasons you want an experienced Plastic Surgeon — their judgement.
The American Society of Plastic Surgery (ASPS), was formed to help educate both the public and plastic surgeons about plastic surgery. Dr. Mele is an active member of the ASPS, and the American Society for Aesthetic Plastic Surgery (ASAPS). The ASAPS is an group of Board Certified Plastic Surgeons who dedicated to the cosmetic aspects of plastic surgery. Both societies sponsor numerous meetings and seminars during which plastic surgeons compare techniques and debate the relative advantages and disadvantages. Patenting a surgical procedure goes against the primary goal of these world renowned national societies. In fact, the ASPS Code of Ethics clearly states:
"An ASPS member may be subject to disciplinary action, including expulsion, if the member seeks or obtains a patent for any invention or discovery of a method or process for performing a surgical procedure or employs trade secrets, confidentiality agreements or other methods to limit the availability of medical procedures and the dissemination of medical knowledge."
Since not every doctor performing Facelift Surgery is an ASPS member, they may not be held to the same high standard.
Schedule a Mini Face Lift Procedure
Dr. Mele is board certified by the American Board of Plastic Surgery (ABPS) and the American Board of Surgery (ABS), as well as a member of the American Society for Aesthetic Plastic Surgery (ASAPS) and the American Society of Plastic Surgeons (ASPS). He has published articles on cosmetic and reconstructive plastic surgery and has presented his research at national, state, and local plastic surgery conferences. If you are interested in cosmetic surgery, our San Francisco Bay Area Facelift Surgeon can help you achieve pleasing results, while providing you with excellent patient care.
If you are interested in a Mini Face Lift in the Bay Area, please contact Dr. Mele by calling (925) 943-6353, or complete our contact form.