Lip Augmentation
Have you ever wished you could have fuller, more shapely lips? Now you can. Dr. Mele offers a full line of injectable fillers, as well as a wide range of surgical corrections. Many of the current options in lip enhancement are outlined below:
Lip Augmentation Videos (Lip Enhancement)
The above video segments are taken from Dr. Mele's television show, Body Beautiful. Body Beautiful appears on the San Francisco Bay Area's New Station – KRON 4, and covers the latest in Cosmetic Plastic Surgery News and Innovation. The segments above discuss the current options for Lip Augmentation. Traditional methods of Lip Enhancement like fillers, and more permanent options like surgical lip enhancement are reviewed, and illustrated with Before and After Pictures.
More information about the pros and cons of both surgical and non-surgical approaches is also included below. If you are interested in learning more about either approach, there is no substitute for an in-person consultation. Give our Plastic Surgery office a call at (925) 943-6353, or contact us online today. The (415) and (800) numbers featured in these Lip Enhancement Videos were for viewers to call in with questions during the live shows, and will not connect to the office.
Lip Augmentation with HA Fillers Before and After Photos
1 - lip augmentation with fillers
2 - lip augmentation with fillers
3 - lip augmentation with fillers
4 - lip augmentation with fillers
5 - lip augmentation with fillers
6 - lip augmentation with fillers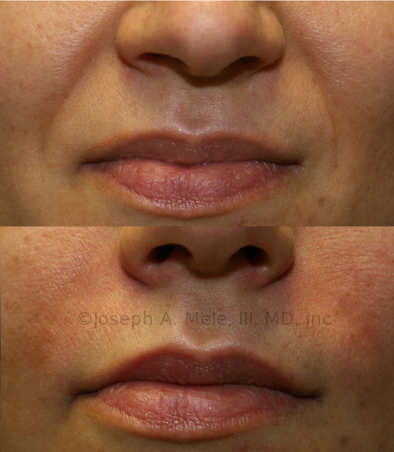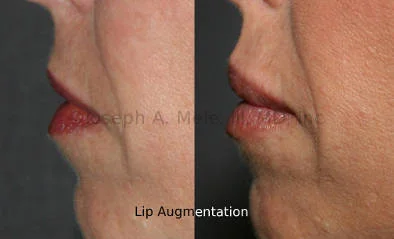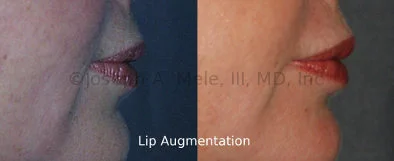 Lip Enhancement with Injectable Fillers
Injectable fillers allow for rapid results, usually with minimal downtime. The wrinkles are literally filled, with immediate improvement. But, dermal fillers do not just fill. Fillers provide structural support to the skin, reinforcing it and decreasing the folding that occurs with normal facial motion. Modern fillers also promote collagen growth, leading to longer lasting results.
Collagen®
The original injectable filler was Collagen®. It was developed in the 1970's right here in the San Francisco Bay Area by researchers at Stanford University. Further development by the Collagen Corporation produced Zyderm® and Zyplast®, the first collagen implants. Collagen® was hugely successful, as it was the only product of its type for decades. Most patients tolerated the products well, but often there was dissatisfaction with its longevity (one to three months). The original Collagen® was derived from bovine collagen. Due to slight differences in the bovine collagen's structure, 1-3% of patients would develop an allergic reaction. A small skin test was required, four weeks prior to the first Collagen treatment, to avoid treating sensitive patients, and causing a larger allergic reaction on the face.
Hyaluronic Acid (Restylane®, Juvederm® & Perlane®)
Collagen has been replaced by Hyaluronic Acid (HA) as the filler of choice, for several reasons:
Extremely low risk of allergic reactions
No need for a skin test and waiting period
Longer lasting results (three to twelve months)
Softer feel, especially important for lip augmentation
No need to over correct (over plump)
HA is a clear gel not bright white like Collagen
Softer HA gel is more forgiving and easier to inject



You may know Hyaluronic Acid (HA) by its brand names: Restylane®, Juvederm® and Perlane®, to name a few. Like its predecessor, collagen, HA is a naturally occurring component of our skin and joints. The main reason HA replaced collagen is because it lasts longer. For lip augmentation, Hyaluronic Acid products provide superior results from the onset. Whether your goal is to increase the size of your lips, or you are simply trying to reduce lip lines and migrating lipstick, HA's give a longer lasting and softer result. Hyaluronic Acid fillers are soft but tough, and can also be used for the treatment moderate to deep lines of the face.
Radiesse®

Radiesse® is also a dermal filler currently available in the USA. It is made of another substance naturally found in the body: small spheres of calcium hydroxylapatite. These tiny, bone-like crystals cause your body to react, and wall them off with your own collagen. The longevity of Radiesse® is about the same as the HA fillers, but since individual results can vary, one product may last longer than the other for an individual. Radiesse® can give a firm result, and is best used for treating the deeper lines that extend from the sides of the nose to the corners of the mouth. Radiesse® is not usually used for lip augmentation for fear of firm nodules developing in the lips. Radiesse® can also be used for Chin Augmentation and Cheek Augmentation.
Lip Augmentation Video Presentation
Fillers are used to temporarily create fuller lips. It is unlikely that we will ever truly have a permanent filler. As we age, our lips atrophy and facial lines get deeper, and more volume is required to maintain the desired results. For additional information on dermal fillers see the skin page. More information on lip enhancement with fillers, and lip augmentation before and after pictures, are available on Dr. Mele's  Blog here: Lip Augmentation San Francisco (Lip Enhancement): Fillers.
Surgical Lip Augmentation Before and After Photos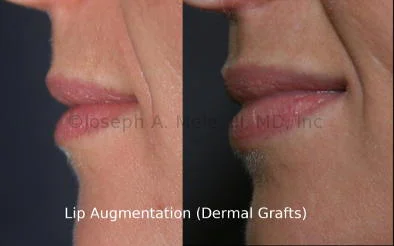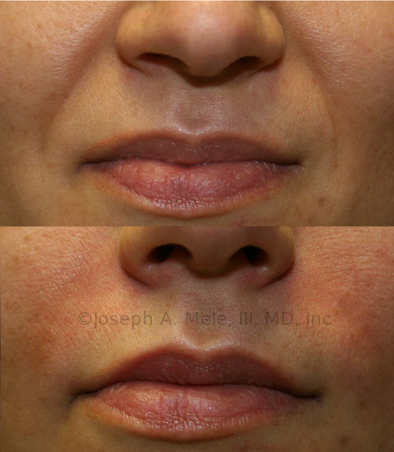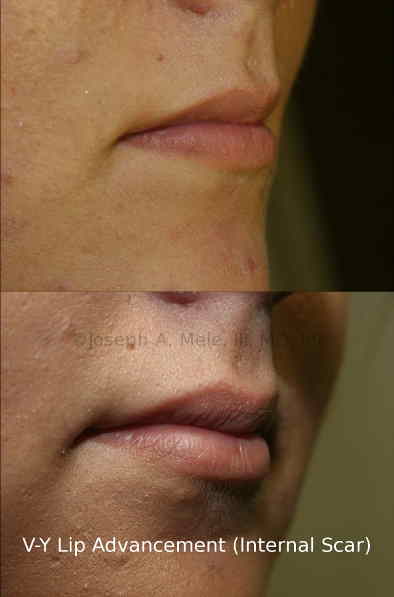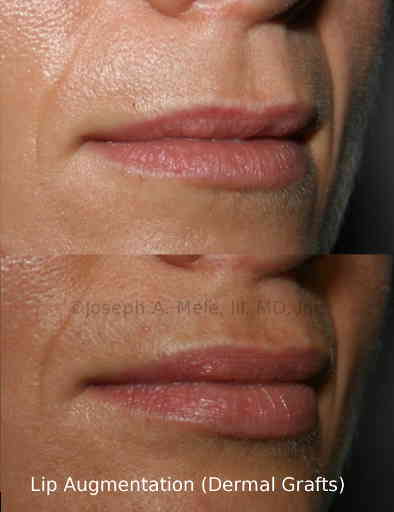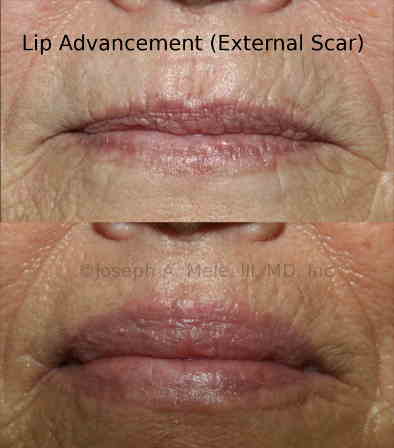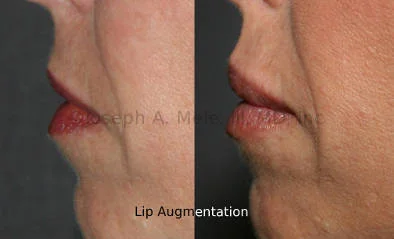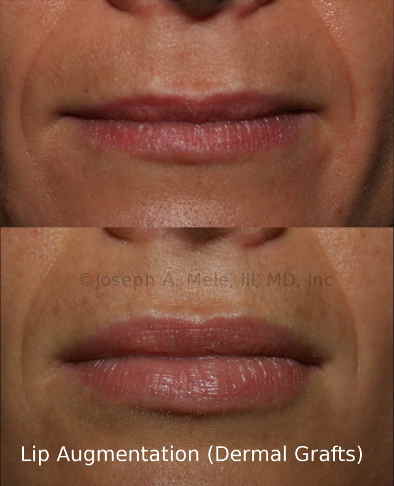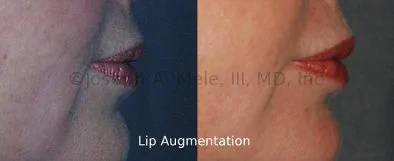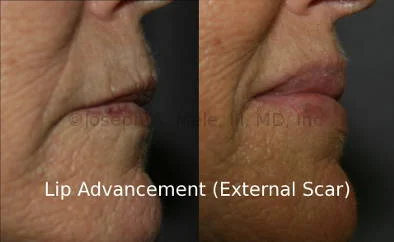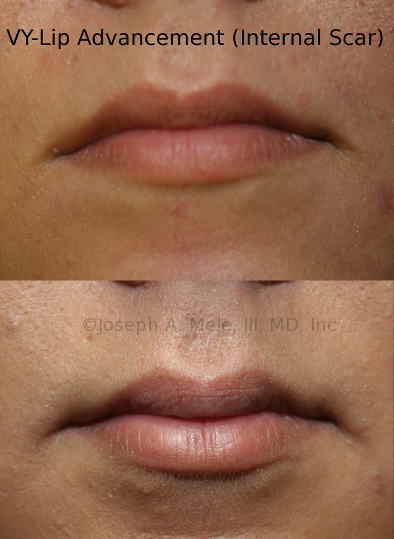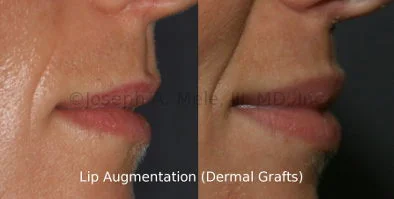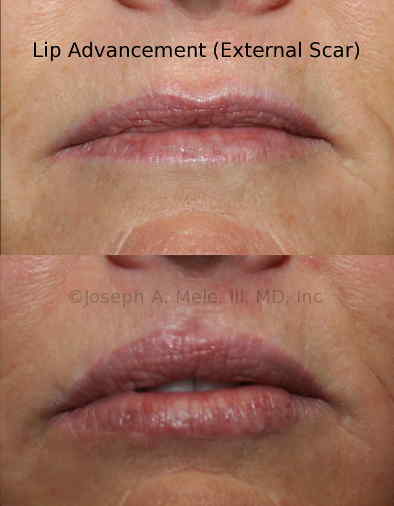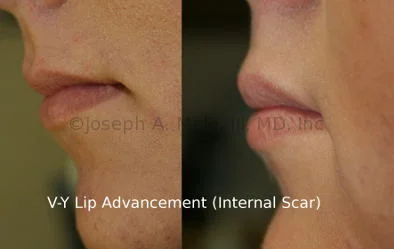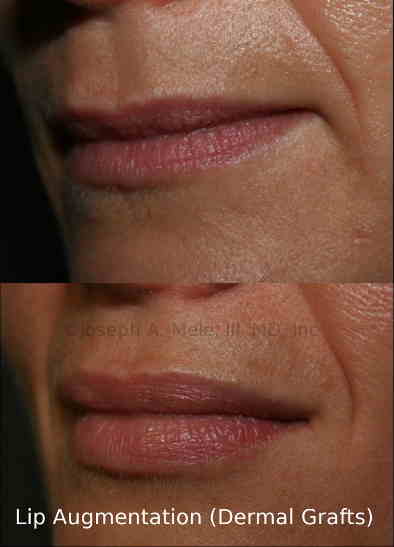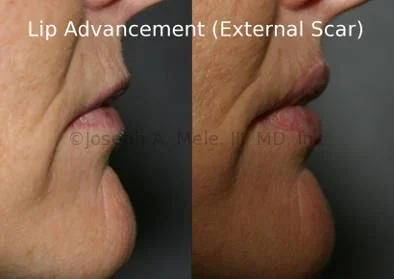 Results shown are specific to each patient and individual results will vary
Surgical Lip Enhancement
For those looking for a longer lasting solution, Dr. Mele also offers lip augmentation surgery. Several specialized procedures are available, As with any cosmetic plastic surgery procedure, the most reliable way to determine if these procedures could help you is with an in-person consultation.
Lip Implants (Natural)
Dermal Grafting – Dermal grafting remains the gold standard for lip augmentation. A piece of your skin is prepared and fashioned into a custom implant to match the desired lip augmentation. Skin can be obtained in conjunction with other procedures where skin is normally removed (Facelift, Breast Lift, Tummy Tuck, etc.). Alternatively, the skin for the lip graft can be discretely removed from hidden areas or even from previous scars. During the procedure, Dr. Mele makes small incisions inside the corners of your mouth. He then gently inserts the custom-made subdermal implants within the lips. Proper placement of Dermal Grafts can often allow your own lip tissue to spread more fully, resulting in more stunning, luscious lips.
Fat Grafting – Fat can also be used as a filler for the lips. Fat removed by Liposuction can be prepared for injection. The fat is used like any filler to add volume. Care must be taken to inject long thin rows of fat cells to enhance the chances that the grafts will take. If the fat graft does not take, volume will be lost, and it is possible that firm nodules may result. With the advent of reliable Hyaluronic Acid (Restylane®, Juvederm® &Perlane®) and the success of dermal grafting, Fat Grafting to the lips has become less popular. It is still used for deep facial wrinkles and to correct traumatic indentations elsewhere on the body.
Stem Cell Grafting – Recently, it has been suggested that stem cell enhanced fat grafts will improve the survival of the fat cells and decrease the risk of calcified nodules forming. Early work is encouraging, but it will take years to know the pros and cons. What is not often disclosed is that all fat grafts are high in stem cells. More stems cells are found in fat than in bone marrow. It is unclear if adding additional stem cells will have the desired effects, and the long term consequences of depositing the stem cells are not yet know.
More information on Lip Enhancement with Implants, and before and after pictures are available on Dr. Mele's Blog here: Lip Augmentation San Francisco (Lip Enhancement): Implants.
V-Y Lip/Mucosal Advancement (Internal Scar)
Thin lips can sometimes be enhanced by rearranging the lips' mucosa. The mucosa, the lining on the inside of the lip, can be pushed forward with a minor surgical procedure to provide added lip fullness. V-Y Lip Advancement is often performed comfortably under local anesthesia. Not everyone is a candidate for this type of procedure. A more detailed description, and before and after pictures, are available on Dr. Mele's Blog here: Lip Augmentation San Francisco (Lip Enhancement): V-Y Flaps.
Lip Advancement (External Scar)
When the red vermilion of the lip is very thin, sometimes Lip Augmentation alone will not be sufficient to obtain the desired results. To increase the amount of vermilion that shows, lip advancement surgery may be the answer. Lip Advancement involves making an incision along the border between the red vermilion of the lip and the adjacent skin. The desired amount of skin is removed, and the vermilion is advanced outward to increase the vermilion show and the apparent size of the lips. More details, and before and after pictures, are available on Dr. Mele's Blog here: Lip Augmentation San Francisco (Lip Enhancement): Lip Advancement.
Lip Implants (Artificial)
Many artificial implants have been made available for Lip Enhancement. Most have come and gone. The lips are soft and mobile, and most artificial implants do not feel or move like natural lips. This leads to palpable edges on the implants in the lip, and restricted lip motion seen most often during a full smile. Artificial implants can erode through the lips causing infections and the need for removal. While many people have had good results with artificial implants, better alternatives are currently available.
Silicone injections are included in the artificial lip implants category also. While silicone injections seems wonderful at first, too many patients suffer long term disfigurement from silicone injections into the lip. Despite years of trials, silicone injections are not FDA approved and are not recommended by any of the leading American Plastic Surgery Societies.
More information on a variety of techniques used for lip enhancement, including before and after pictures, are available on Dr. Mele's Blog here: Lip Augmentation San Francisco (Lip Enhancement): Introduction.
Schedule Your Lip Augmentation Appointment Today
Call (925) 943-6353 to find out more about the Lip Augmentation Options that will work for you. Schedule a consultation appointment today, or use our on line form to contact Board-Certified Plastic Surgeon Joseph A. Mele, MD for more information. Our office is located in Walnut Creek, California, directly across the street from the John Muir Medical Center – Walnut Creek Campus.