Thigh Lift
Thigh Lifts are frequently performed for individuals following major weight loss or Bariatric Surgery. A thigh lift can tighten and tone sagging thigh skin and flabby thigh tissue. For the properly selected patient, thighplasty can help give you the slim, firm, contoured thighs you are looking for.
Thigh Lift (Thighplasty) Before and After Photos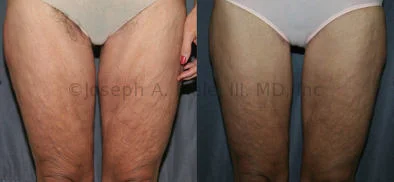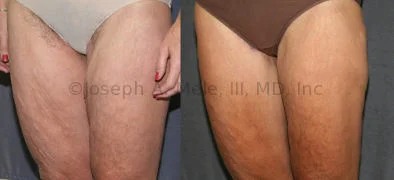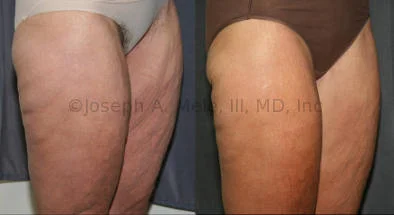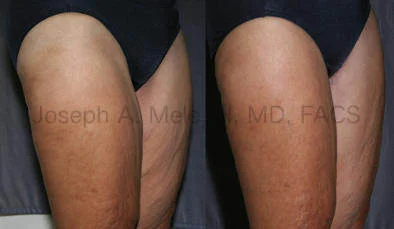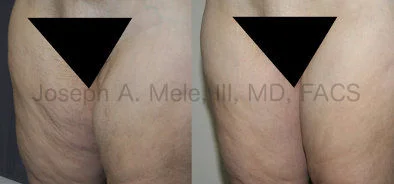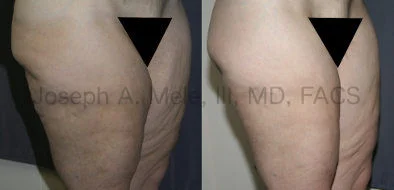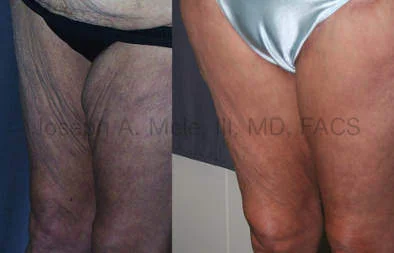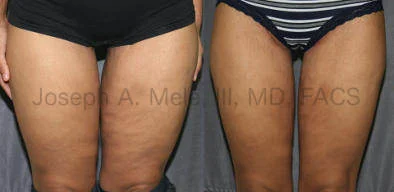 Thighplasty
The Thigh Lift involves removal of excess thigh skin and tissue, to create trim, beautiful results. The primary method of thigh lift uses an incision that wraps around the upper, inner thigh, from the groin to the fold under the buttocks. This allows the scar to remain as hidden as possible, and maximally remove excess tissue from the upper, inner and posterior thigh. An alternate approach uses an incision on the inner thigh that runs from the knee upward. This uses a more conspicuous scar location, but allows for better removal of lower, inner thigh skin. A third approach uses an incision that begins in the fold under the buttocks, and is extended upward and laterally to remove excess skin from the saddle bag region. The different approaches allow the Thigh Lift to be maximized in the region that has the most redundant skin. For optimal results, the thigh lift is sometimes combined with Liposuction.
Thigh Lift (Thighplasty) Video
Thigh Lift Video Presentation (Thighplasty)
If you suffer from sagging, unattractive skin on your thighs, you may be an excellent candidate for the Thigh Lift. After losing a significant amount of weight, your inner thigh skin may have lost its support causing your thigh skin to hang like drapery. Post-Bariatric Surgery patients in particular have excess thigh skin and can benefit from a Thighplasty.
Click on the Thigh Lift Videos above or below for video presentations that review the Thigh Lift.
You may also call (925) 943-6353 and schedule a private consultation appointment today with our Board Certified Plastic Surgeon, Dr. Joseph Mele, and learn more about your options.
Post Bariatric Plastic Surgery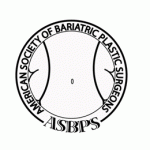 Dr. Mele is an Active Member of the American Society of Bariatric Plastic Surgery, Board Certified Plastic Surgeons dedicated to reshaping bodies after massive weight loss.
Dr. Mele has extensive experience helping patients after successful weight loss. Whether after Bariatric Surgery, or due to changes in diet and exercise, massive weight loss often leads to massive skin laxity. Dr. Mele prides himself on helping his patients look and feel better in their skin. Contact Dr. Joseph Mele to learn more about the possibilities of an Thigh Lift.
As a Board Certified Plastic Surgeon, and an active member of the American Society of Bariatric Plastic Surgeons, Dr. Mele is a post-weight-loss and Post-Bariatric Plastic Surgery expert. His extensive training, numerous prestigious Plastic Surgery society memberships and Board Certifications, all demonstrate his commitment to superior outcomes and patient safety, and make him uniquely qualified to shape your post weight loss body.
Schedule Your Thigh Lift Consultation Today
Call (925) 943-6353 to contact our Board Certified Plastic Surgeon in the San Francisco East Bay Area today for further information, or to schedule a consultation to learn more about your thigh tightening options. If you are in good health, but frustrated with excess loose skin, especially on your inner thighs, a Thigh Lift (Thighplasty) may be the best solution for you.