Areola Reduction
Areola Reduction surgery reduces the circle of pigmented skin found around the nipple. It is performed for both men and women, often in conjunction with Breast Reduction, Breast Lift, Gynecomastia Reduction, Nipple Reduction or Inverted Nipple Correction. The areola naturally enlarges, and may darken, in response to the hormones released during puberty and pregnancy. Often the areolar enlargement seen during pregnancy remains, even after lactation ceases and may persist even when the breasts lose volume. For men, a large areola is often associated with male breast enlargement (gynecomastia), and has a feminizing effect on the appearance of the breasts. Areola Reduction can reduce the size of the large areolae and is often performed in the office, under local anesthesia and with a relatively short recovery period.
Areola Reduction Before and After Photos (Men & Women)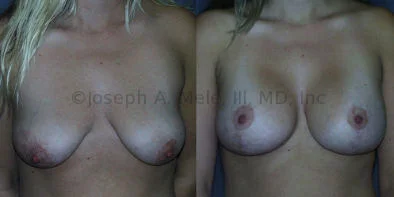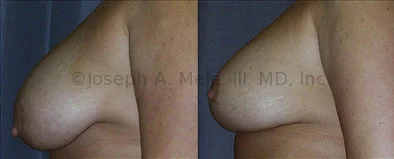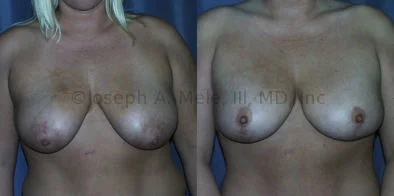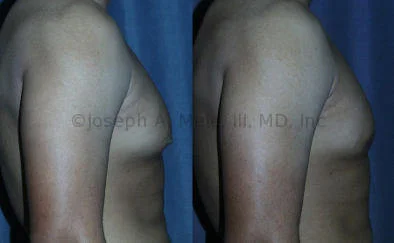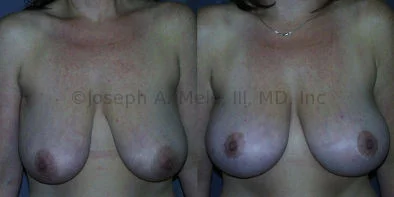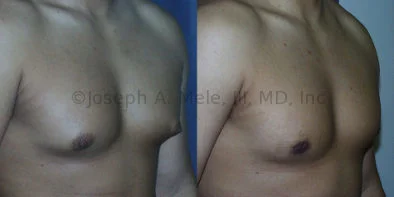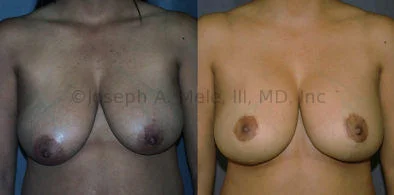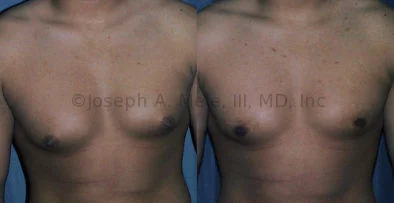 Female Areola Reduction
Disproportionately large areolae (the plural of areola) can be a source of embarrassment for women. Whether the enlargement of the areolae is isolated or found in conjunction with large, sagging or frankly tubular breasts, Areola Reduction can be an important part of breast enhancement surgery.
Areolar Reduction as a Solo Procedure
When performed by itself, Areola Reduction is a minor surgical procedure. It is often performed under local anesthesia; however, conscious sedation or general anesthesia may be desirable in certain situations. The nipple and central portion of the areola remain attached to the breast, and only the excess, peripheral areola is removed. Since the pigment is contained in the superficial portion of the skin, only a thin layer needs to be removed. Fine sutures are placed underneath the skin edges to re-approximate the areola to the surrounding skin. For large reductions, a restraining suture may be placed to help maintain the smaller areola's circumference. A small breast lift is included with this approach, when it is desirable. The periareolar breast lift cannot substitute for a formal breast lift. If too much is asked of the procedure, the areola may stretch and become too large again.
Areola Reduction with Breast Reduction
When large areolae are associated with heavy breasts that cause neck and back pain, areola reduction make be incorporated as a satisfying component of your Breast Reduction surgery (Reduction Mammoplasty). Breast Reduction surgery is performed to reduce the volume of, and relieve the symptoms associated with, enlarged breasts. Not only will Breast Reduction reduce your breasts' volume, it will also lift the breasts, and reposition the nipple and areola higher on the breast mound. The nipple and areola remain attached to the breast tissue during most breast reduction, and reduction of the areola is very easy to include with no additional scars.
Areola Reduction with Breast Lift
For patients scheduled for a Breast Lift, the enlarged areolae associated with saggy breasts can be corrected during your procedure. The incision necessary for your breast lift is sufficient for areolar reduction surgery. Much like when large areolae are treated during breast reduction surgery, no additional incision is needed. The areolae are reduced and repositioned, without being detached from the underlying breast tissue, thus preserving maximal circulation and sensation.
Areolar Reduction with Tubular Breasts
For patients with tubular breasts, areolar reduction is an important part of the correction. Tubular Breasts are often associated with enlarged and full areolae, as the breast tissue can herniate into the areolae causing puffy nipples. By reducing the areola, the breast tissue is confined to the breast mound, and cannot over inflate the areolae. The result is a less tubular, and more rounded, aesthetic breast mound.
If you are interested in learning more about Areola Reduction, call our office today at (925) 943-6353 to schedule a consultation.
Male Areola Reduction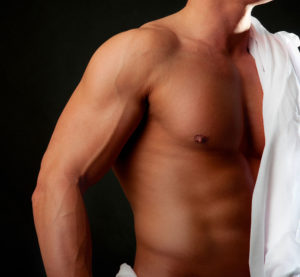 Male Areola Reduction can be performed by itself or as part of another breast procedure. The most common breast procedure for men is gynecomastia surgery (male breast reduction). With gynecomastia, the areola is often enlarged. Areola Reduction can reduce the overall size of the pigmented skin around the nipple, and provide a more masculine chest. When the nipple is large, nipple reduction, may also be desirable.
Areola Reduction as a Solo Procedure
As with female Areola Reduction, when performed by itself, male areola reduction is a minor surgical procedure. It can be performed under local anesthesia; however, conscious sedation or general anesthesia can also be utilized when desired. Since the pigment is contained in the superficial portion of the skin, only a thin upper layer of skin needs to be excised. Once this excess peripheral pigmented areola skin is removed, fine sutures are placed to inset the new smaller areola into the surrounding skin. A restraining suture is rarely required for men. When the areola is full or projecting, Gynecomastia Reduction is performed concomitantly.
Areola Reduction with Gynecomastia Reduction
Areola Reduction can be a component of gynecomastia reduction surgery. In cases where the areola is enlarged, reduction can provide a more masculine appearance. The male areolae are smaller, lower, more lateral and more oval than the female areolae. Careful attention to detail is required for optimal results. The periareolar incision used for the areola reduction can also provide access for removal of the enlarged male breast tissue. By removing the excess tissue, the areola is flattened.
Areola Reduction Preparation and Recovery
Areola Reduction Preparation includes the usual items found on any preoperative check list. The most important step is an in person consultation appointment to review your concerns, the details of Areola Reduction and the expected outcome. The risks, benefits, recovery from and any alternatives are reviewed so that your decision is an informed decision, and so that you feel comfortable before electing to proceed. Your health is reviewed and appropriate precautions are recommended. Avoiding medications, herbs and supplements that can increase your risk of bleeding is recommended. Be certain to discuss these with Dr. Mele prior to your procedure.
Areola Reduction Recovery is usually quick and uneventful. The surgical site is covered with Steri-Strips and these should remain in place until the doctor removes them. Bleeding should be minimal; however, gauze is placed into your bra just in case. Medication for pain is often prescribed, but over-the-counter medications like acetaminophen (Tylenol), ice and elevation are often enough. Acetaminophen should be taken instead of, rather than with, prescription pain medicines, because most prescription pain meds already have acetaminophen in them. Showering is usually permitted 24 hours after the procedure, but the incisions should not be submerged until Dr. Mele tells you that your Areola Reduction is sufficiently healed. You will be seen in the office for routine follow-up visits, and additional treatments and instructions about scar minimization will be updated as needed, as you heal.
Schedule an Areola Reduction Consultation
If you are interested in learning more about our San Francisco Bay Area Plastic Surgery office and Areola Reduction Surgery, please contact our cosmetic surgery office in Walnut Creek, California today at (925) 943-6353.